The New Year 2011 has not started well for the Emerging Markets while opposite is the case with Developed Markets particularly US. For the last couple of year's stock markets around the world were moving in the same direction but that seems to have ended for now. US Market has been moving up in the New Year while Indian Market has been declining giving sleepless nights for the domestic investors. While there are many reasons for this including inflation, interest rate hike and commodity prices, lot was dependent on FII's booking profit to invest in Western Markets. FII's have sold equities worth about 8000 crores since the start of the New Year. If 8000 crore sell-off can create this much mayhem in the Indian Market, I shudder to think what can happen if they offload all the 30 Billion dollar investments they have made in the year 2010. Unless our market is influenced more by domestic investors and institutions, this situation is unavoidable.
The market correction has given the much needed opportunity for many people who either want to enter now or re-align the portfolio with better stocks. I was looking at the prices of some of the stocks and found how irrational investors are and how the investor behavior forms the market sentiment. I will discuss this with 4 real world examples.
Bajaj Holdings and Investments
Whether it is land or Grocery or Stock, we all want to buy at a price lesser than its real value. For example, if someone sells an article worth about Rs.2100 for a price of just Rs.750, will people buy? I would think so. But it does not happen always at least in stock market. Bajaj Holdings and Investment is a holding and investment company and it has 31.49% and 38.55% stake in Bajaj Auto Limited and Bajaj Financial Services Limited and also 24% in Maharashtra Scooters Limited. Apart from these, they have a 100% subsidiary called Bajaj Auto Holdings Limited and 1% stake in ICICI Bank Limited plus other equity investments.
Lets Calculate the per share worth of this company.
Value of Bajaj Auto and Bajaj Finserv stake = Rs.16500 Crores
Other Equity Investments Including ICICI Bank = Rs.3100 Crores
Value of Fixed Income Securities =Rs. 2576 Crores
So total value of these investments is Rs. 22176 Crores. Bajaj Holdings has the total outstanding shares of about 10.58 Crore Shares.
If you divide the total investment value of Rs.22176 crores by the total outstanding shares, you get the per share value of Rs.2100. But the current market price of Bajaj Holdings and investment is just Rs.735 which is 65% lesser than the actual investment value. Also, the businesses they have invested in (Bajaj Auto and Bajaj Finserv) are doing extremely well and future is very bright too. Even if we assume 25% holding company discount, the stock still has about 40% upside. I am sure many market analysts know this but I do not know why the stock price is hovering around Rs. 735. One interesting thing, this stock did trade at Rs.3100 in December 2007 / January 2008 during the previous market peak. So, is this an opportunity or irrational behavior of investors? Only time can answer.
Indiabulls Real Estate
Indiabulls group is one of the shareholder friendly ones that we can see today. You can better understand this if you look at the dividend of group companies Indiabulls Financial Service and Indiabulls Securities. Indiabulls Real Estate is the real estate arm of this group and they went for the IPO in 2007. They did not have any visible projects or cash flow in 2007 and 2008 but the stock was trading at Rs.840 and thereabouts. If the investors had that much of a hope in this company, I do not know why the same investors do not have that hope when the same company is actually making profits?
The stock is currently trading at Rs.120. In fact the value of the company is several times higher than what it was in 2007 and 2008 but the stock is trading several times down from the 2008 peak. The projected FY12 EPS for the Indiabulls Real Estate is around Rs.15 and they also have 58.5% stake in another listed company Indiabulls Power. Their land value itself would be higher than their market cap and adding the indiabulls power stake, the stock is available at a cheaper price than its real value and the only reason I see for this is Market Sentiment and irrationality. Otherwise why would someone buy a company at Rs.840 when there were no visible projects and why someone would not buy when the company is actually making good profits in addition to other serious investments?
Reliance Infrastructure
This is another company available at a cheaper price and I do not know if that is because of Anil Ambani. There was a time where people looked upon Ambani's for good returns. But time has changed since then and these days investors are ready to invest in any company sans 'Reliance'. Coming to the Reliance Infrastructure business, they operate in very good sector and have very stable business of power distribution.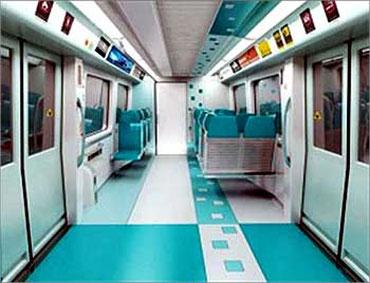 They distribute power to two of the most important cities in India, New Delhi and Mumbai in addition to Metro Projects, toll roads, Airports and power generation. They do have internal Engineering Procurement and Construction (EPC) team which generates serious cash flow and the trailing 12 month EPS is Rs.52. FY 2010 EPS was Rs.67. But the most interesting fact is yet to come which is their 44.96% stake in Reliance Power. Reliance Infrastructure's investment value on the basis of Current Market cap of Reliance Power is Rs. 605 per share. But all these things are available for Rs.725 currently and I again have no answers to this. By all means of rationality it should be trading somewhere around Rs.1200 but market is a place where people get opportunities and I do not know if this is one of those cases. But I am sure Reliance Power will be a very big company in next 5-6 years and Reliance Infrastructure stands to gain a lot from this investment alone. May be by 2015, Reliance Infra's Rpower stake itself could be valued around Rs.2000-2500.
Adani Enterprises
Adani Group is one of the fastest growing business groups in India and they have interests in port infrastructure, power, coal trading, oil & gas and agro processing. They have 70.25% stake in Adani Power which is planning to generate around 20000 MW Power by year 2020 and they also have 67% stake in Mundra Port. As we did for other companies, if we calculate the per share investment value of Adani Enterprises, it comes out to be around Rs.340. Rest of the Adani Enterprise Business (coal trading, Agro Processing, Oil & gas) is available for Rs. 240 based on the current market price of Rs.580. Again the businesses they are in have the opportunity to grow multifold and they only stand to gain in the future.
Another example would be Mahindra and Mahindra, but I will let the readers do the research. These are some of the examples that I wanted to share to give better understanding about irrational investor behavior. I am sure there are several better stocks out there with similar hidden values and if the investors are able to cherry pick them, they would be better off down the line.
Kumaran Seenivasan