The concept of "Undervalued" stocks is misinterpreted by many retail investors in my view (at least in my view) and I thought it can be a good discussion here. The idea to share my views on this came up after reading the post on "Opto Circuit" in the blog Safalniveshak.com and also the comments that followed. Vishal has analyzed about this stock on his blog and the stock has come down since then. Many readers of his blog started hounding him for the fall which is very unfortunate. What impressed me the most is the comments section (I receive the comments to my email) where people took the stock analysis to another level. Readers have started dissecting each and every line on the financial statement of this company like never before. I have not seen investors analyzing each and every line item for any other company. Of course this is good, but one will not find even 2 stocks from Indian equity universe if same level of analysis is done as in the case of Opto Circuit. No matter what great company and management it is, one can find some negatives in the financial statements or in the business or in the economic environment.
Many retail investors read books on Warren Buffet, Peter Lynch, John Templeton etc. and misinterpret the ideas in my view. One such misinterpretation is about "Undervalued" stocks. People think that great stocks without any issues both at the company level and at macro economic level are "Undervalued" sometimes because of market irrationality which is far from the truth.
Lets assume a fictional company which has the following.
Great Business
Everything is innovation and no acquisition
Top class management
Perfect corporate governance
Accurate financial statements in the way you expect them to be
Positive cash flow all the time
No goodwill in books
Pays 20 - 30% tax without using any legal deductions
Grows at 25% CAGR
Very good macro economic environment (Low inflation, low interest rate, high economic growth etc.)
Good political system
No regulatory issues
If a company has all of the above going for it, why would you think this will be "Undervalued"? Let me tell you how the price graph would be for this stock. It will look like a linear upward straight line. The closest stock I can think of is Apple inc which has several of the above points going for it and clearly does not satisfy all. In spite of that fact, look at the below graph which depicts the stock price appreciation for Apple Inc. If a company with few short comings can perform like this, then never ever imagine that a company with all the above points going for it would ever be "Undervalued".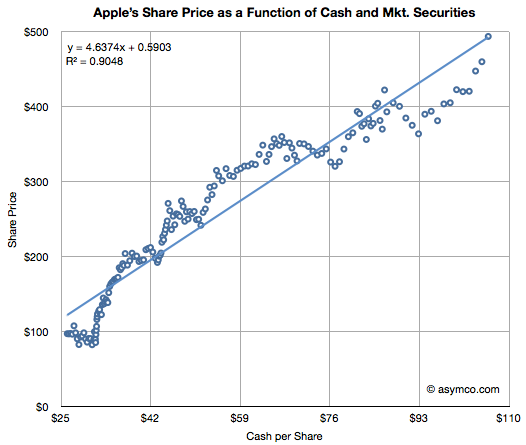 If a company has all the above things, then it will never have to face the headwinds to be "Undervalued" by investors. Same thing applies to OPTO CIRCUIT. I am not at all saying this is a great stock to own. All I am saying here is that the analysis have to be rational. People expect this company to grow at a hot pace and expect them to show good profit but they also want the following (From the comments that I read in the Safalniveshak.com post).
Company should have positive cash flows
Company should not make acquisitions
Company should not invest for the future but consolidate
There should be no goodwill on books
Company should pay more tax (Worries about tax payment)
Working capital position should be good
Debtor days should be way less than what it is now
Rating should be "A" from rating agencies
They should not delay the repayment of loan to the banks even for few days
Finally they also expect the price to be at Rs.130 and then they will buy !
Give me a break ! Why would such a company trade at that price? If all of these things are true, then the stock would be trading at Rs.330 and not 130.
Great investments are made when there is short term pain for a company and not when everything is good. If everything is good, then the market would already price it and your returns would be sub optimal. Do you think a stock is undervalued for no reason? Hell no. Something has to bother the market to undervalue a stock. For example, everything with the company is good but the economic environment is bad (Like 2009 where many good companies were available at great prices), or everything is good but the company market cap is small or everything good but the company does not have free cash flow as they invest for the future etc.
The reason "Undervalued" came into being is (in my view), the market irrationally punishes some stocks more than they deserve to be punished when companies associated with these stocks face short term headwinds. For example PSU Banks. Many of the PSU Banks are available at 0.5 times book value which is crazy. PSU Banks were trading at 1.5 - 2 times book value in 2010 and they were trading well above 1 times books value even few months ago. They definitely deserve to be punished because of the following.
Bad Macro economic environment (High inflation, high interest rate, High commodity prices etc)
Raising NPA's
No reforms, Corruption and unstable political environment
Declining growth
Basel III Norms
Government involvement
If stock prices come down to 1 times or 0.9 times book value because of these reasons, then that would be a "rational" price and no one would term it as "Undervalued". But because of the inbuilt fear of losing the money among humans, people tend to over react and sell stocks at throw away prices to minimize the loss. Hence most of the PSU bank stocks are now trading well below 1 times book value which is more than what is "rational" or "Appropriate". So this is where the term "Undervalued" comes into play. You need to analyze the positives and negatives of these banks and if the stock prices have declined more than the "degree of negatives" then you can assume these stocks are "Undervalued" and have to decide whether to buy are not. That's where "Margin of Safety" and "Risk - Reward" ratio terms come into play as well. If everything is good with the company, then no one will need margin of safety.
In essence, investors need to decide if the stock price is "rational" or "irrational" for the current situation of the company (Company situation as it is) and if the stock price is irrationally low even accounting for the short term headwinds and negatives, then that stock is "UNDERVALUED". Then there is an additional step to decide whether to buy the stock at that price or not for which one needs to look at the probability for the company to overcome the short term pain. If you expect there is a high probability for the company and management to overcome the current pain, then that is a reasonable BUY.
Kumaran Seenivasan
www.stockanalysisonline.com